Nds Surgical –
Integrate, Visualize, Perform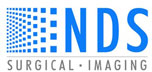 NDS Surgical Imaging is a global leader in designing and manufacturing comprehensive visualization solutions for today's surgical, interventional and medical imaging markets. The company's innovations, including industry-first features such as High-Definition (HD) compatibility, 510K certification for Mammography Diagnostic displays, DICOM calibration for LCD visualization, Multi-modality Image Processing, etc, have driven increased technology adoption rates in leading medical technology companies, hospitals and university medical centers worldwide.
Vantage Endoscopy represents NDS Surgical in Canada including distribution of the Radiance® series of medical displays. Designed and manufactured within the U.S., NDS Radiance displays are a key component of any endoscopic imaging platform. The displays support all common video signals including DVI, Composite and the state-of-the-art HD-SDI. Features include membrane style buttons for simple cleaning, class A glass and calibration as well as Multi-Mode imaging enabling two high definition signals to be broadcast simultaneously through the same monitor.
The company's market leadership is built upon its unique ability to supply the medical profession with technologies that enable practitioners to integrate information from many sources, visualize a defect or condition within the body and to perform an intervention that improves the quality of care.