Erbe –
An Innovator in the Fields of Electrosurgery, Argon Plasma Coagulation, Water Jet Technology and More.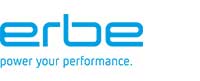 Established in 1992, as a subsidiary of the 150 plus year old ERBE GmbH and headquartered in Marietta, Georgia, a suburb of Atlanta, ERBE USA is the North American distribution center for it's parent company, ERBE Elektromedizin, GmbH, with world-wide headquarters based in Tübingen, Germany.
While drawing on extensive research , development and production resources of the world-wide headquarters, ERBE USA offers our own state-of-the-art Technical Service, Customer Service and distribution center to assure quick response and wide availability of products to healthcare facilities.
ERBE USA distributes Electrosurgical Generators, Argon Plasma Coagulation units, Cryosurgery Units, Lavage Pumps, and the latest in water-jet technology, the Helix Hydro-Jet™, to top medical professionals in Gastrointestinal suites and Operating Rooms across the USA and Canadian markets.